DAY 51d
MEKNÈS ~ Heri el Souani (Fès-Meknès, MAR)
Saturday December 31st, 2016
TODAYS MILEAGE – 216 miles or 348 kilometres
TRIP MILEAGE – 25963 miles or 41783 kilometres
The Royal Stables & Granaries of Heri el Souani are also known as Dar el-Ma (Water Palace) for the Agdal Basin reservoir that lies beneath the site. The Royal Granaries were designed to store grain as feed for the 12,000 horses in the royal stables, not just for a few days or weeks, but over a 20-year siege if necessary.
Moulay Ismail and his engineers of the day counted on three things to keep the granaries cool enough that the grain would never rot: thick walls of around 3 ½ metres (12 feet), suspended gardens (a cedar forest was planted on the roof), and an underground reservoir with water ducts under the floors. The high-vaulted chamber on the far right as you enter has a 10 metre (30 foot) well in its centre and a towpath around it where donkeys circulated constantly, activating the waterwheel in the well, which forced water through the ducts and maintained a stable temperature in the granaries.
Out behind the granaries are the remains of the royal stables, roofless since the Lisbon earthquake of 1755. Some 1,200+ purebreds, just one-tenth of Moulay Ismail's cavalry, were kept here. Stand just to the left of the door out to the stables and you can see the stunning symmetry of the stable's pillars from three different perspectives, which I've tried to capture in my shots.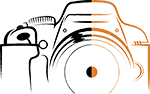 Select Camera Icon To Start Slideshow